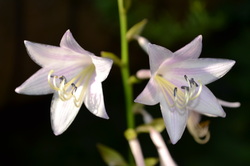 In Greek, there are multiple words for love. The three major words are, when transliterated into English, eros, phileo and agape. Eros describes the romantic love between a husband and wife. Phileo is the root word from which we get the name Philadelphia so most know this as a form of brotherly love. Agape is unconditional love.

Most attribute agape love to God in a way that seems it is the only love God has toward us, that all-consuming, unconditional love. This notion is not true. The Word tells us in 1 John 4:8 that God is love. If He is love, then he is all definitiions of love. We can see this clearly demonstrated in Scripture.

First, we'll look at phileo. Proverbs 18:24 says, "One who has unreliable friends soon comes to ruin, but there is a friend that sticks closer than a brother". Again, Romans 8:17 tells us that we are joint heirs with Christ. God's love for us is not just as Creator/creation or as Father and children. God (Jesus) loves us like a brother. Big brothers are supposed to look out for us, protect us and stick up for us. The Lord loves us in this way. He is a shoulder to lean on and one we can count on.

Eros is romantic love. As we see in Revelation 22 and several other Scriptures, we (the church) are referred to as the bride and Jesus the groom. He has a passionate and intimate love for us. He has us as His bride to love us for better or worse, for richer or poorer, in sickness or health until we go to be with Him. He loves us always.

He, of course, also has agape, unconditional love for us. I think Romans 5:8 defines this best: "But God demonstrates His own love towards us in this, while we were yet sinners, Christ died for us." Combined with John 3:16, we see God loves us at our absolute worst and, instead of rejecting us, He made a way to restore us.

God loves you in every way.