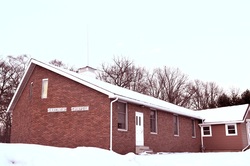 "Come now, let us settle the matter, says the Lord, though your sins are like scarlet, they shall be as white as snow; though they are red as crimson, they will be like wool." Isaiah 1:18

This is a great spiritual truth. No matter where we have been or what we have done, we can be forgiven. No matter how "dirty" sin makes us, the blood of Christ can cleanse us.

But this is also good for all of life, especially at this time of the year. Whatever things life threw at you in 2012, messing up your hopes and dirtying your dreams, God can make 2013 brand new also.

White as snow.

One thing I notice about snow is that, because it is so white, just a little dirt can be immediately noticed. It stands out and makes a good portion of the snow look bad. A little sin can really make our lives dirty. Little sins can really stand out just like Jesus told us when He said that a little leaven ruins the whole batch.

The other thing I notice about snow is that is is white, bright and beautiful. When the sun shines on it, man is it bright! When the Son's light shines on us, we also can be unbelievably bright and beautiful.

Let's allow the Son to shine on us so that we can shine more beautifully for Him.

It is a new year. The old is gone and the new has come. The past doesn't matter! We are white as snow.